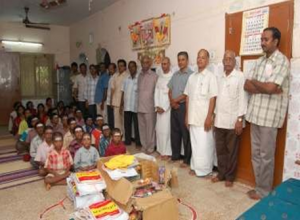 A brief note on the social services conducted by our temple so far is as follows:
Free food (lunch) is served for about 2000 people on every full moon day.
A sum of Rs.5,000/- is donated every month towards grocery expenses for 80 blind girls living in at Lotus Blind Welfare Trust of India, No.12, Thiruveedhi Amman Koil Street, Mylapore, Chennai – 600004.
A sum of Rs.2,000/- to buy milk and milk powder is being paid every month to Kalaichelvi Karunaalya Social Welfare society functioning at 3rd block, West Mogappair, Chennai – 600037.
A sum of Rs.1,500/- is donated every month towards food expenses for the students of Good life Centre located at Loganathan Street, Tambaram, Chennai – 600045. Also, 2 sets of new dresses, sweets and other special food are being donated on Diwali day every year.
Since 2003, free yoga and meditation classes are held on Sundays (Morning 7.00 A.M. to 9.00 A.M). A sum of Rs.750/- is being paid (by the temple) per class.
Every year, during English and Tamil New year day, free food as a prasadam served for all devotees visiting the temple.
Social Welfare activities are conducted every year jointly with Saidapet corporation Boys' high school, Maduvaangarai Corporation Boys' high school and Dharmabal Government ITI institute for Women. Our Meditation Centre provides accommodation and food for these boys and women.
Bore well water facility was provided for public use at Manohar Nagar Colony, Pallikaranai.
Medical expenses towards the eye surgery were paid to Mr.T.Natesan and Ms.Mohanapriya residing at No.4/92, South Street, Muthukaapatti Post, Namakkal.
Every year education expenses and school uniforms are being offered to the poor students.
Computers and furniture worth Rs.1,70,000/- was donated on 24.12.2011 for the economically backward deaf and dumb students of MCJ special school for deaf and dumb at Anna Nagar, Chennai.
Download Social Activities