About Annai Aadhi Parasakthi Temple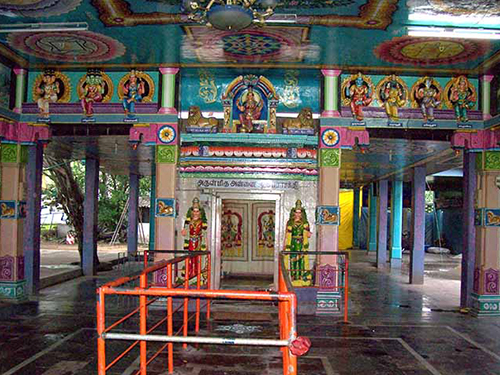 It's a widely held belief in India that whenever there is a decline in spirituality in this world, holy saints incarnate on earth and with their immense grace and divine powers, restore the spiritual balance and strengthen the spiritual way of life.
In the Tamizh spiritual tradition, these holy saints are called as Siddhas or Siddhars (the Enlightened ones) and are believed to live on eternally in their subtle bodies.  It's further believed that, these Siddhas, depending upon the needs of the times, may incarnate as great devotees of the Lord, manifest as Suyambu Sakthi (self-manifested powers or deities) or cause the construction of  a temple with plenty of divine powers, using other humans as their instruments for carrying out such tasks.
A temple conceived by the Siddhas
It's the unshakeable faith of its devotees that the Annai Aadhiparasakthi temple in Pallikaranai is one such temple conceived and established by the Siddhas to shower their blessings on suffering humanity. The temple was constructed in accordance with the temple construction traditions (Siddha Aagama Vidhigal) and successfully consecrated (kudamuzhakku) by the grace of the Siddhas on 12th October, 1984.
In 1984, the sannidhi (sanctum sanctorum) of Divine Mother Aadhiparasakthi alone was constructed covering an area of 1200 square feet. In due course, the sannidhi of Lord Ganesha, the Entrance hall and the Divine Mother's Maha Mandapam were constructed. Later the Meditation hall, the sannidhi of Divine Mother Mandhirappaavai, the Maha Mandapam in front of the Mother Mandhirappavai and the 18 Siddhar statues were constructed.
All the mandapams in this temple have colourful and magnificent sculptures of various Hindu Gods and Goddesses. A large dining hall with a kitchen for Annadhanam (serving of food) on all full moon days and special pooja days was also constructed.
Location of the Temple
The temple is spread over 9 grounds of land on the Velachery-East Tambaram route in South Chennai, about a kilometre off the main road. The temple is so located away from the hustle and bustle of the city, in the midst of a suburban residential area, that it provides a peaceful atmosphere for meditation.
Administration and Growth
The temple is an independent institution, run by Trustees and volunteers, nominated by the Mother and is mainly meant for the upliftment of those who are spiritually inclined.
The daily pooja activities, administration and social welfare activities of the temple are performed only through donations given by the devotees who have benefited from the blessings of the Divine Mother and other deities in the temple. The temple was thus expanded to 30,000 square feet only by using such voluntary contributions from the devotees.
Therefore, we request you to visit our temple and seek the blessings of the Divine Mother and other Deities to lead a healthy, wealthy and spiritually purposeful life.
Pallikaranaisakthi Alaya Thalavaralaru – பள்ளிக்கரணைசக்தி ஆலய தல வரலாறு