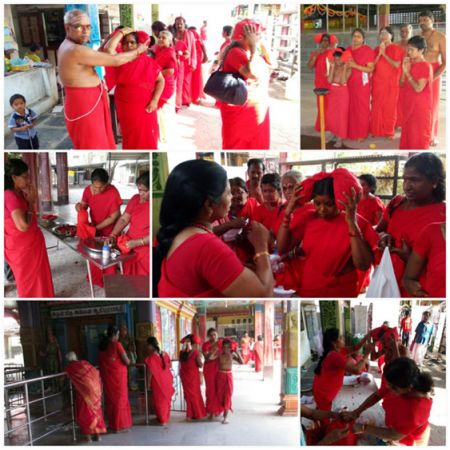 On 23/02/2020 the Irumudi Samarpanam is being organized at the PallikaranaiSakthi Temple. We urge all the devotees to take part in this worship and lead a happy and prosperous life ahead.
Interested devotees are requested to wear the Sakthi Malai on 20/02/2020 at the temple and behold the Vratham on 20, 21 and 22/02/2020.  (Those who have the Sakthi Malai at home can wear it at home).
On 23/02/2020 (between 700 AM and 11:00 AM), the devotee shall bring 1kg of raw rice, 1kg jaggery, 200g ghee, 10g each of cashew, raisins and cardamom as Irumudi items. These items shall be tied as an Irumudi in a red cloth (it is available near the temple) and the worship is concluded by surrendering it at Annai Adhiparasakthi's shrine. Rs 51/- shall be paid at the office or online as Gurudakshina before the Irumudi worship.
All are welcome.